Communication
The Emergency Fund — Supporting the healthcare system of the Republic of Moldova
The Ministry of Foreign Affairs of the Republic of Poland, through Solidarity Fund PL in Moldova, donated 37 oxygen concentrators to the Ministry of Health, Labour and Social Protection of the Republic of Moldova. This medical equipment is distributed to 30 hospitals in the country and is the second batch offered within the Emergency Fund.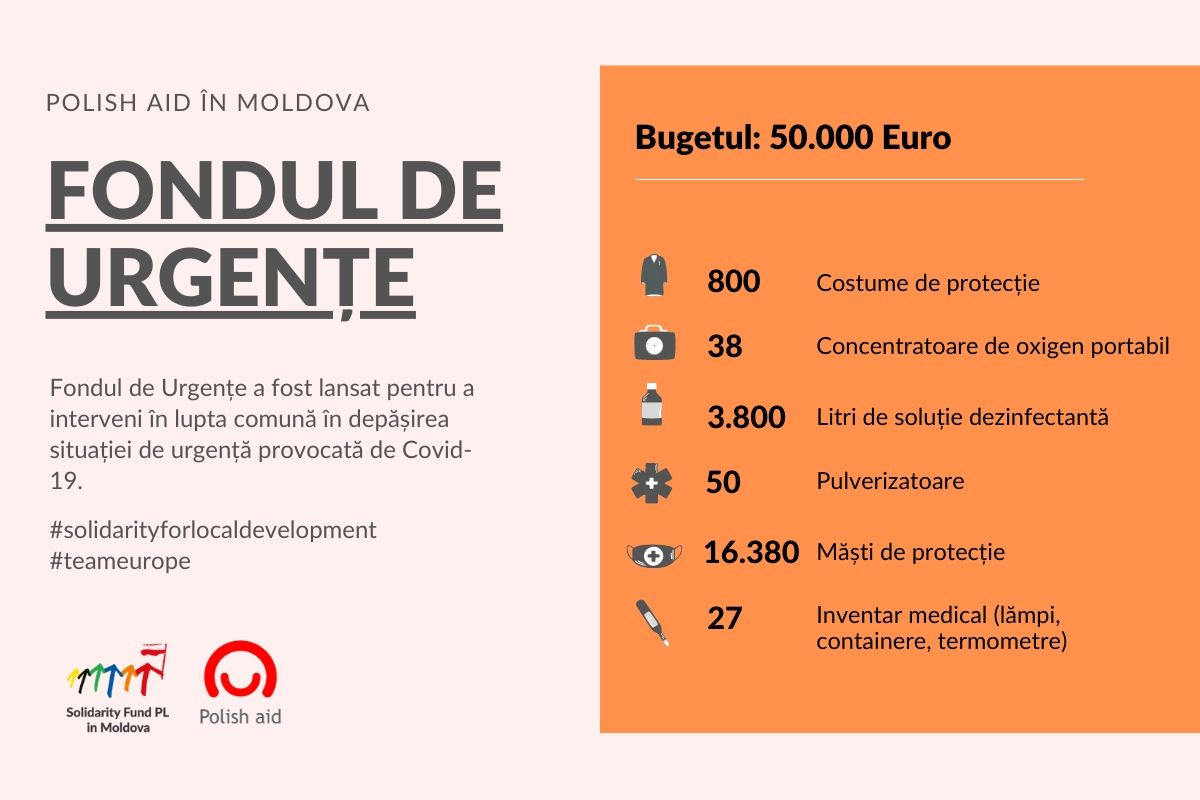 The Fund, valued at EUR 50.000,00, financed by Polish Aid, was launched as a response to the the exceptional situation in the medical system and to the need to overcome it. Previously, the Fund's sources were directed for the purchase of specific materials and devices – protective / hazmat suits, liquid disinfectant and sprayers devices, protective face masks and other medical items.
The following actions were taken:
ordering protection masks and uniforms in local sewing workshops – previously supported by the LEADER Local Action Groups – the small rural entrepreneurship could still maintain a working spirit;
ordering disinfectant liquid from a local perfume company from the Local Action Group territory to re-orient its' production;
donating the oxygen concentrators to the hospitals, thus supporting with devices that will ensure treatment therapy.
"It is our duty to be involved in such moments and to act promptly. We want to thank Polish Aid for entrusting us with the Fund, and the Ministry of Health, Labour and Social Protection for their collaboration. We hope that our actions will help overcome the pandemic", the country director of Solidarity Fund PL in Moldova, Tomasz Horbowski, says. "Through this assistance, we also managed to contribute to the rural entrepreneurial activity, giving the locals the opportunity to work for an honourable cause", he adds.
The medical equipment and provided materials were distributed in several medical institutions in the country, including on the left bank of the Dniester River.
The Emergency Fund is financed by the Polish development cooperation programme of the Ministry of Foreign Affairs of the Republic of Poland – Polish Aid. 
0
years of activity
in Republic of Moldova
0
local development
projects co-financed
0
facilitated partnerships